The Cidatel is the Capital of City 92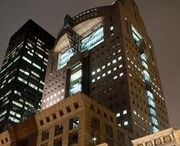 it has a modern, Art Deco Design
the Citadel is completely Self Suficcient, and does not require the Power Grid to continue to run at full Function thanks to its Dark Matter Fusion Core.
Notable Rooms
Edit
Ad blocker interference detected!
Wikia is a free-to-use site that makes money from advertising. We have a modified experience for viewers using ad blockers

Wikia is not accessible if you've made further modifications. Remove the custom ad blocker rule(s) and the page will load as expected.